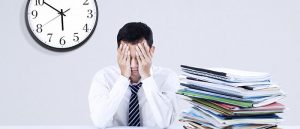 La capacità di prevedere le situazioni future ci permette di pianificare la nostra vita e di controllarla, però potrebbe anche contribuire alla crescita dei rischi collegati allo stress per le malattie dell'invecchiamento.
Gli psicologi hanno scoperto che le persone più messe sotto pressione dalla previsione di impegni stressanti in ogni ambito della vita quotidiana, al lavoro come parlare in pubblico e così via sembrano più vecchie a livello cellulare.
I ricercatori hanno esaminato l'età delle cellule misurando i telomeri, che sono i cappucci di protezione alle estremità dei cromosomi.
I telomeri corti classificano l'età cellulare e sono associati all'aumentato rischio per una serie di malattie croniche dell'invecchiamento, compreso il cancro, le malattie cardiache e l'ictus.
Il modo nel quale si affronta una breve situazione di stress al lavoro  può rivelare molto su come si risponderà alle situazioni di stress nella vita quotidiana, quali perdere le chiavi, essere bloccato in traffico o condurre un incontro di lavoro.
Lo studio sarà pubblicato sul numero di maggio della rivistaBrain, Behavior and Immunity.
Journal Reference:
Aoife O'Donovan, A. Janet Tomiyama, Jue Lin, Eli Puterman, Nancy E. Adler, Margaret Kemeny, Owen M. Wolkowitz, Elizabeth H. Blackburn, Elissa S. Epel. Stress appraisals and cellular aging: A key role for anticipatory threat in the relationship between psychological stress and telomere length. Brain, Behavior, and Immunity, 2012; DOI: 10.1016/j.bbi.2012.01.007
Image courtesy National Human Genome Research
Questo sito web è studiato con il solo obiettivo di fornire formazione e informazione e non sostituisce alcun consiglio, esame, diagnosi o trattamento medico. Le informazioni fornite attraverso questo sito non devono essere utilizzate per diagnosi o trattamento di alcun problema di salute o patologia. Non sostituisce gli operatori professionali della salute ed è studiato per supportare e non sostituire il vostro medico.